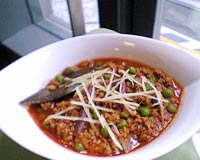 For 4 Persons.

Ingredients :

350   gms mutten keema(minced meat).
2        tsps. oil, 2 onions chopped.
8-10  curry leaves.
6        green chillies.
1        tsp. garlic (lahsun) paste.
1        tsp. ginger (adrak) paste.
1        tsp. chilly powder.
1/2    tsp. turmeric (haldi).   
1        tsp. salt.
2        tomatoes chopped lengthwise
1        tablespoon green coriender chopped.

Method Of Preparation :

Heat  oil.Fry onion, curry patta and hari mirch for two minutes.
Mix lahsun, adrak mirch powder, haldi and salt to the minced meat. Mix fried onion etc.,to it.
Fry the minced meat. stir all the time.
Add tomatoes and hara dhania. Fry  for two minutes, but stir all the time.
Serve hot.

Calories : 197.
Protein : 1.63 gms.
Fat : 3.59 gms.
Carbohydrates : 8.57 gms.